Attention Sponsors
Our team sponsorships for our 2022 70th Anniversary Season have SOLD OUT!! Thank you to all of our amazing sponsors.
Field Banner Sponsors are still available and are another great way to advertise your business. Please let us know if you would like to sponsor a Field Banner.

Volunteers Needed
Calling all volunteers!! Please visit http://volunteer.swansealittleleague.com to let us know how you might be able to help!
Apply now: http://volunteer.swansealittleleague.com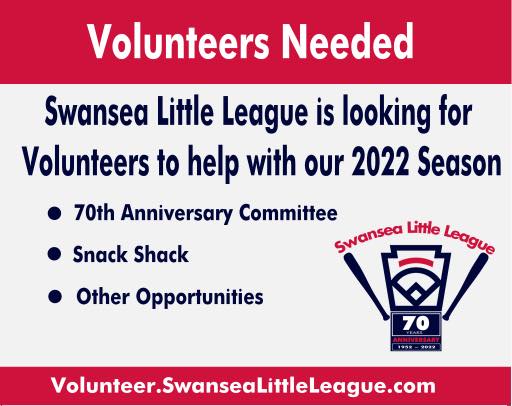 Swansea Little League Fan Gear is HERE!!!



Look sharp on and off the field!

Get yours today, visit our online shop:

http://sll.spiritsale.com


NOTE: All merchandise can use either the regular Swansea Little League Logo or the 70th Anniversary Logo, just put a note when placing your order of you want the 70th logo.

Support Swansea Little League with Amazon Smile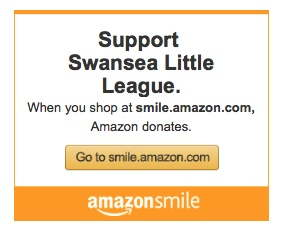 We are pleased to announce our partnership with AmazonSmile!

The program will automatically donate 0.5% of your purchases to the charity of your choice. Simply select Swansea Little League as your recipient organization and shop as you usually would.
There is no cost to participate, and there are no changes to the way you shop. These little donations add up and you get to do a world of good.

Thank you for your support!!
Challenger Division
Swansea Little League supports a Challenger Division for children with disabilities ages 5-18. This division supports not only Swansea but the Southeastern Massachusetts area. If you would like more information on this division please contact division director Nicole Santos at (508) 813-5578
Swansea Little League CORI Policy
please click here to review the Swansea Little League CORI Policy (

)
Keep our Fields Clean!
Please keep our fields clean! Clean your dugout before you leave! If you see trash, please pick it up and throw it away - don't just walk by it. It takes ALL of us to keep our fields clean.
REMINDER: PETS ARE NOT ALLOWED
The League would like to take this opportunity to remind everyone that pets are NOT ALLOWED at the Swansea Little League Fields. This rule is in place to ensure a safe environment for all players and spectators.
Effective immediately this rule will be strictly enforced during all Little League events.
Swansea Little League Accident / Injury Policy
Please click here to view the Swansea Little League Accident / Injury Policy (

) and click here to view the Injury Tracking Form (

).
All accidents or injuries MUST be reported within 24 hours of the incident.
For more information, please contact John Harrington, Swansea Little League Safety Officer, with any questions - via phone @ (508) 951-2545 or via e-mail @ jharri7269@comcast.net.